Foxy Hungry Trash
About The Foxy Hungry Trash Game
Get your fingers ready for this challenging Five Night At Freddy's Game. In which you need to feed three most popular animatronic from the original horror game. Names of these characters are Chica, Bonnie and Foxy. This is a one of fan made games in which you need to be as fast as possible in order to beat the game. Chica, Bonnie and Foxy needs to eat and you will feed them with trash that will come from the right side of your screen. Each trash goes to the certain animatronic. Try not to make too many mistakes or you will lose. In that case Chica, Bonnie and Foxy will get so hungry that they will eat you in the end! Foxy Hungry Trash is unblocked online FNAF game. That you can play anytime you want, from any place, school or work. It's completely free
and without any registration or installation.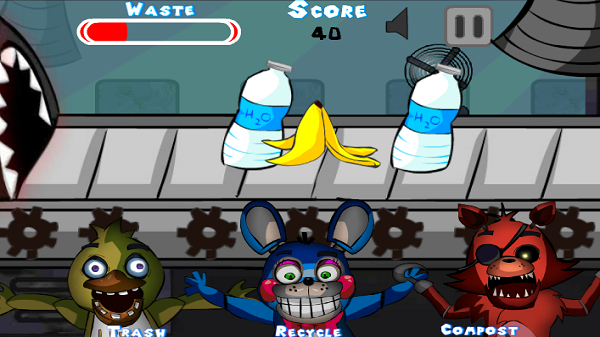 How To Play Foxy Hungry Trash Game
Foxy Hungry Trash is playing by using your mouse. You point, you click and you drag the object to the animatronic character you choose. Your main goal is to feed these three hungry animatronics with the trash. That will come out from the trash machine. In the moment you see the trash coming out from the machine you need to click on it. To hold it and to drag to the animatronic that needs to eat that trash.
Chica will eat only Trash, Bonnie will it only recycle items and Foxy will eat Compost. Trash will be items like bandage, scissors, lamp, pen, clothing, paper. Recycle items will be bottles of water, a bottle with milk, canned, fork, book, cd, envelope. The final are Compost items. Those are banana peel, egg shell, flower, apple, meat, toilet paper, bone, twigs. You need to give them to the right animatronics. Also you need to do that really fast. Because if the trash or item come to the end of the machine your Waste Bar will fill. If it fills completely you will lose the game. Giving a trash to the right animatronic will also reduce your waste. Give your best and make the best score!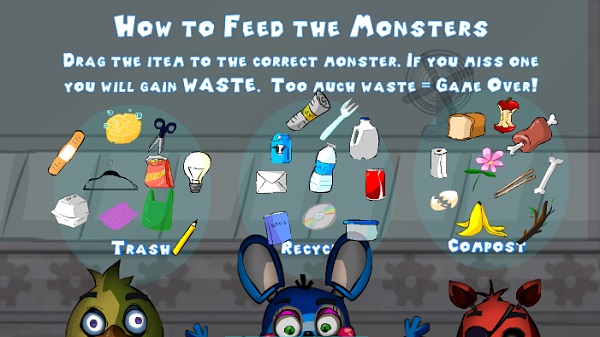 Final Words For Foxy Hungry Trash Game
Foxy Hungry Trash is challenging and exciting FNAF point-click game. It will delight you and it will fill your day with fun! What is also awesome about this online game is that you can play it with your friends. You can compete with each other and you can find out who can make the best score. By feeding these animatronics in a correct and right way. Show your skills, your speed, your skill of observation and enjoy playing this epic online game! We will continue to provide you with the latest and the most popular FNAF games. With fan made games that you can play on our site 24/7!